When Cynthia Shilwatso joined Spanish top-flight side Escuelas de Fútbol (EDF) de Logroño in August 2020, not much was known about the side amongst the Kenyan fans.
In that time, only Esse Akida (then at Turkish side Besiktas) had managed to feature for a proper European team and the uncertainties that surrounded what awaited Shilwatso was evident.
Also Read: No longer Depressed
"I really didn't know what to expect in my next chapter but I was ready for whatever challenge that came my way. It was going to be my first professional stint outside the country and the excitement was mixed with anxiety," the striker opines to Pepeta.
While she arrived at her base in August, she had to wait for her debut in October in what she termed was a proper learning process that needed patience.
"I was coming from a league in Kenya and definitely I wasn't going to jump into the starting team. It was something the coaches explained to me well and I did understand what they required. Mine was to work hard in training and be patient for my turn. When it came (against Levante), it was like a fulfilled dream. I think I have grown as a player since then," she adds.
Cynthia has gone to play seven games for her side who are currently placed 16thon the Spanish Primera Division Femenina. All of her games have been from the bench but the confidence in her gives a picture of someone who is determined to be a regular starter in the future.
"I didn't manage games in my first days but right now I play games albeit from the bench. That's some progress for me. I just want to put more effort and hope that I'll be a starter soon here," she opines.
With the likes of Real Madrid and Barcelona her opponents every other week, Shilwatso who admits shes never adapted with the Spanish food says she has improved as a player.
"Since I came here I think I have made steps but I need to do more. The competition here is very high and the opponents come with different challenges every week.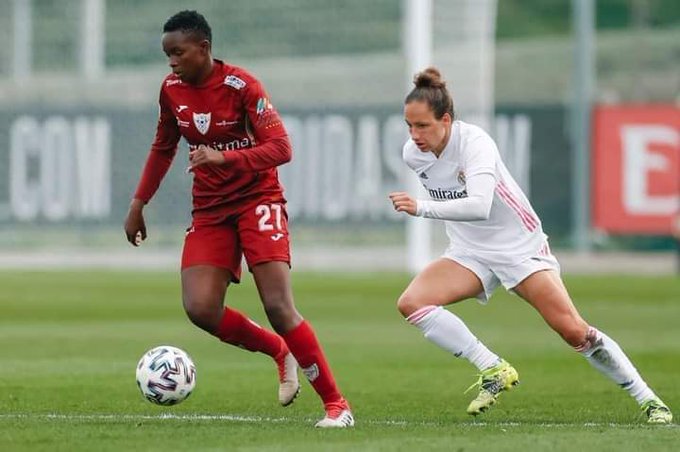 "I have adapted with everything here but it's the food I still struggle with. I want to help the club achieve its goals and I am confident that as a team we will get better," she says.
The attacker has not been called in the latest Harambee Starlets team that is set to face Zambia in a friendly later this month but there is a feeling her call up might come when the team heads to the business end of the qualifiers.
Also Read: Neddy Atieno: The playing soldier with a matching ethic